Businesses that implement face analysis technology are opening up a world of possibilities for deeper connections and meaningful relationships with their customers. When implemented correctly, face analysis helps businesses offer highly personalized products and services to customers around the world, without sacrificing speed and customer privacy. There are a number of different ways to implement face analysis—it's important that you find the best approach for your business. 
How Do Businesses Use Face Analysis?
Face analysis has virtually endless applications. Businesses use the technology to connect with consumers in a variety of ways. Here are some examples:
Market research firms use face analysis to understand consumers' emotional responses to advertising campaigns, packaging, or other visuals. 

Video game designers

 and amusement parks are using similar strategies.

Makeup companies use face analysis and

augmented reality

(AR) to help consumers

virtually try on

 new products—a new shade of eyeshadow, for example, or a new kind of mascara.

Car manufacturers are 

developing safety features

 that incorporate face analysis to determine whether drivers are showing signs of drowsiness and distraction. Face analysis can also check whether their eyes are on the road.
3 Paths to Implementing Face Analysis
The potential uses for face analysis are almost unlimited. But how do you get started? Below are three of the best ways to implement face analysis in your business.
Option 1: Get the SDK for Face Analysis 
Developing an effective system means bringing together technologies like face analysis and AR into a single tool that consumers can interface with easily. Utilizing an SDK, or software development kit, such as Algoface's, will save your team the trouble of attempting to internally build every aspect of your new system and write every single line of code.
Pros and Cons 
Using an SDK will save you time and money. This approach is generally the most cost-effective way to implement face analysis for your business. It frees your tech team to focus on other projects, and you won't have to spend valuable resources developing already existing technology. You can create a smoother user experience for your customers from the get-go, since the code is likely to be time-tested.To make an SDK work for you, you need to have:
A clear, detailed vision of the final product

Strong DevOps team incorporate the SDK into your business
The potential downside of using an SDK is that your final product may not be as customized as you'd like. In many cases, this is not an issue, since a good SDK allows for a high level of customization. But in some cases, personalization options may be limited.
Option 2: Work with a Face Analysis Partner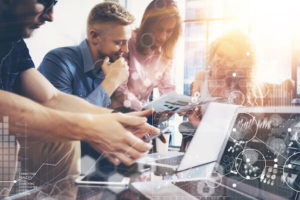 Partnering with a reliable face analysis technology company such as AlgoFace can be more costly than simply using their SDK. However, instead of the one-and-done solution provided by an SDK, partnering allows you to continually tweak and change your offering, which can lead to more opportunities for your business. 
Pros and Cons
Partnership makes the process of implementing face analysis more flexible. If your vision doesn't fit neatly into an established pattern, then this may be the best way to go. If you want to offer a face analysis-powered product without completely owning the product, partnership is also an option to consider. On the other hand, working with a face analysis partner requires constant input into your final product. This may be a disadvantage for some businesses.Partnering works best for businesses with:
A confident vision of the final product and use case(s)

Trusted DevOps strategy resources

The time needed to work closely with your face analysis partner
What's the downside? If your business lacks technical resources and a highly trained staff, you may not be able to keep up with the technical side of this partnership. Be aware that this process will require ongoing engagement from your staff. If that's not within your reach, then consider a different solution like outsourcing.
Option 3: Outsource and Have the Experts Do It for You 
Many businesses benefit from the use of AI technology even when they don't have solid DevOps resources. For those business types, outsourcing can be a great solution.
Pros and Cons
Outsourcing enables you to save time and resources. When you turn the technical issues over to the experts, you don't need to bog down your own development team with the project. In fact, you may not even need an in-house development team at all.What's the downside? Outsourcing can be a more costly way to implement face analysis. You'll also need to invest some time upfront in creating a vision and making sure that the experts you hire, like those at AlgoFace, have a firm understanding of your goals.Here's what you need to make outsourcing work:
A vision and a budget

A set of goals for the final product

A vendor or service provider you can trust with your project 
Choose the Best Face Analysis Path for Your Unique Needs
AlgoFace offers carefully tailored solutions for businesses implementing face analysis. The team at AlgoFace is dedicated to:
Protecting the privacy of every person who uses the technology

: AlgoFace AI uses 

Identity-Free Biometrics

—meaning, it doesn't identify the person behind the face—which is both GDPR and CCPA-compliant.

Minimizing AI bias

: AlgoFace AI is designed to be inclusive. The data that drives it comes from diverse, inclusive sample sets that reflect the diversity of not just the U.S. but the entire world.

Providing speedy and quality experiences

: The technology "operates on the edge," which means the processing is done right on the device, in real-time. AlgoFace also makes use of a unique compression

algorithm

, allowing users to experience AI, AR, and more at lightning speed.
AlgoFace works with businesses in a variety of capacities. We offer SDKs as well as partnerships and full development, and we work closely with each business to determine the best path for their needs. Learn more about what AlgoFace can do for you by submitting an SDK trial request or reaching out to a sales representative.