"I'm excited to start using AI here at GCU eSports. I like to think of it as the 'gaming and eSports' for someone who's already into 'gaming and eSports.' It's already a big thing." The anticipation Jay DeShong, the director of Grand Canyon University (GCU) eSports, shows for the benefits of AI is understandable. Collegiate eSports is gaming but on a competitive level, taking over colleges and universities. GCU eSports is one of the leading collegiate eSports programs in the U.S. with five different collegiate scholarship teams, participating in national competitions for games such as Smash Bros, Overwatch and League of Legends. "Our dedication to building community sets us apart from other collegiate programs. GCU eSports is more than just a competitive eSports organization." Students at GCU can find community by joining club teams, playing games with their friends and enjoying gaming events in the eSports arena, featuring high-end gaming PCs, a tournament viewing area and the latest consoles.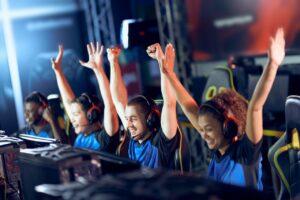 "Building and running an eSports organization can be expensive. We don't have the same [budget] as an athletics program," Start-up costs for eSports organizations can range between $200,000 to $350,000. In 2021, the average division I athletics department budget ranged from $123 million to $16.7 million, depending on subdivision status. With many demands on a tight budget, DeShong is always looking for new and innovative ways to do more with less. AI's advancement in technology benefits eSports organizations by aiding content creation, assisting coaches, providing support and creating realistic avatars. 
Aiding Content Creation with AI 
"I could see AI being implemented at GCU eSports to create low-level content for social media." Some of the ways DeShong's team can leverage this technology is the GCU eSports social media team using automated AI tools to create low-level assets at the snap of a finger. By typing prompts into the latest automated content tool, Microsoft Designer generates content for multiple channels. Microsoft Designer is helpful for eSports organizations to create content that reflects ever-changing matches. One sentence can generate up to eleven templates for social media posts. Overcoming creative roadblocks is easy with the power of generative AI.
Coaching Assistance with AI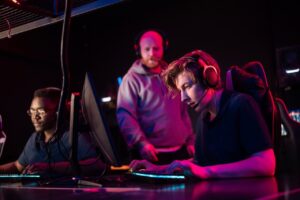 "My ultimate goal is to serve our eSports teams in any way I can. That is why I have opened my mind to the possibilities of AI here at GCU eSports."  Coaches at GCU eSports can use AI coaching assistance to support and improve player performance. The SenpAI program aids players by providing real-time analysis throughout an entire match. SenpAI activates when players accept a match, giving team insights and character suggestions based on their play style. The in-match analysis gives players insight into enemy statistics and proximity, letting players stay focused on the game. Players receive a report with performance statistics, a match summary, and their strengths and weaknesses at the end of a match. 
Next Level Support with AI
Answering questions about GCU eSports is an everyday part of Jay DeShong's role. "My energy over email or in meetings often helps people feel good about GCU eSports. I wish something could make people feel as good as I do about GCU eSports." Harnessing the power of Botpress, eSports organizations can create chatbots powered by OpenAI to provide next-level support. Creating a chatbot allows prospective players to ask questions and learn more about eSports organizations. Botpress allows eSports organizations to customize chatbots to their liking with over 100 customizable templates. 
Personalized Avatars with AI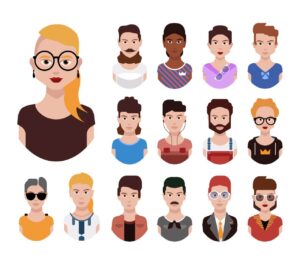 "When I first played NBA 2K15, they had this face scan technology for avatars that made everyone look bad. I wish they had realistic face detection that made avatars reflect a person's actual face. I would love to see that used competitively for our teams at GCU eSports." Inaccurate avatar generators are a common criticism of modern video games. There is a huge challenge to creating such lifelike and accurate avatars, especially when genes in the face differ more than DNA in any other section of the human body.  Face AI companies like AlgoFace leverage 3D facial reconstruction technology to create realistic and expressive avatars that reflect the unique features of each individual. eSports organizations can use this solution to create personalized avatars that reflect the real faces of their players and create a more immersive experience. Using personalized avatars allows for diverse representation in eSports and enhances the goal of creating a community. 
AI has the potential to transform the world of competitive gaming. "I know AI will be one of the next eSports types of industries. It's exciting to see its growth. I think AI is going to serve us in a lot of ways we don't realize." For organizations like GCU eSports, AI creates new opportunities. "I can see AI as a cost solution for all companies. With the benefit of AI, we can automate rudimentary business practices." By incorporating AI, eSports organizations can allocate more time to their many crucial daily tasks.