The best minds in artificial intelligence (AI), computer vision and machine learning are hosting, speaking at and attending some great events in 2022. We've curated a short list of the best events happening in the next few months.
May 17-19, Santa Clara, CA, 100+ sessions, 50+ exhibits 
The Embedded Vision Summit in Santa Clara next week bills itself as the "premier conference for innovators incorporating computer vision and edge AI in products." Their Enabling Technologies Track offers sessions on real-world, commercial tech that adds visual intelligence and AI to new products as well as:
Processors and tools for deep-learning-based object recognition

Optimized software components for low-cost, energy-efficient, real-time vision

Frameworks and services for faster product development

Edge AI

Deep Dive Day-product creators who want to bring visual intelligence to products
Additional tracks include Fundamentals, Business Insights and Technical Insights. A 2-day summit package is $995, which gives you access to all tracks on both days plus the keynote and general Session talks, tech exhibits and demos, the reception, and download decks for all sessions. There's still time to register here. 
June 19-24, New Orleans, LA, 9,000+ attendees, 180+ organizations with exhibits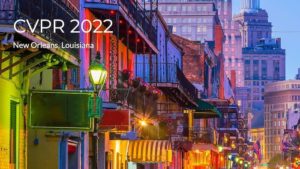 This event for leaders in computer vision boasts a main conference and several co-located workshops and short courses. The enormous workshop schedule can be seen here. Ninety-two percent of attendees are in research & engineering in a variety of industries, and attendees love the high quality and low cost of this event, providing exceptional value for students, academics and industry researchers.
This year's event is a hybrid conference, with in-person and virtual attendance options. The conference proceedings will be publicly available via the CVF website, with the final version posted to IEEE Xplore after the conference. Prices range from $75 for a student virtual ticket to to $1,150 for a full, onsite passport. Register here for both virtual and in-person attendance in New Orleans. 
July 19-22, 26-28, San Francisco, CA + Online, 3,100+ attendees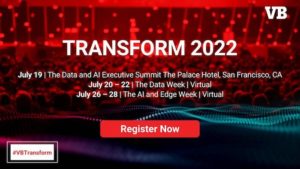 This annual event focuses on enterprise transformation with artificial intelligence and data. There's a special spotlight on AI/ML applications across financial services, retail, healthcare, manufacturing, and security verticals, with a dedication to quality networking & carefully curated, result-oriented AI content, cross-functional & cross-vertical coverage.
Daily schedule:

Day 1: AI/ML Automation Technology Summit

Day 2: Data, Analytics, & Intelligent Automation Summit [Accenture]

Day 3: Conversational AI & Intelligent AI Assistants Summit [Five9]

Day 4: AI at the Edge & IoT Summit, focus on

Computer Vision

& AR/VR

Day 5: The Big Picture in the world of AI & Data
A VIP Pass is available at $399, which gives you access to the main stage, private networking, roundtables, breakfast sessions, annual VentureBeat Membership unlocking gated content, community spaces, extra events, and more throughout the year. The event will be livestreamed, free – all 5 days with event updates. Register here. 
More AI and Computer Vision Events in 2022
Stay tuned for a more comprehensive list of events for the remainder of 2022. In the meantime, here's a sneak peek:
And don't forget to check out what AlgoFace is up to in the AI space! We're committed to building technology for good, with a focus on privacy and ethics.