The rise of e-commerce and virtual try-on (VTO) is ushering in new opportunities for beauty retailers looking to engage customers and drive sales. By allowing users to try on beauty products virtually, brands can create experiences that are more personalized and memorable. 
Fashion and beauty brands are extremely popular on Instagram. Every month more than 130 million people use Instagram Shopping to discover and buy products. 
Virtual Try-On for Creating Memorable Customer Experiences

Instagram Shopping is, in a way, like Shopify on Instagram. It provides retailers with a customizable storefront that features "shoppable" products from their catalog. Shoppable posts or images quickly display relevant information about a product, such as pricing, product description and a link to the retailer's website where users can add items to their cart then check out. Some brands are eligible for direct checkout on Instagram, meaning their customers can buy a product by simply tapping the "Checkout on Instagram" button with no need to leave the app. 
With so many retailers using Instagram to market their products, it can be hard to stand out from the crowd. For fashion and beauty brands there is a quick and simple way to provide customers with an optimal buying experience: virtual try-on. 
What Is Virtual Try-On?
As mentioned above, virtual try-on, or VTO, enables customers to virtually sample products online (and sometimes in-store) using augmented reality (AR) technology and smart mirrors. It uses a combination of live video, computer vision, machine learning, facial mapping and analysis, and other AR tools to accurately display products on a person's face or body in real-time. This provides shoppers with an interactive preview of products to help ascertain whether or not they want to buy the product before making the decision.
Consumers can find their ideal shade or style using AR features that let them see how the product looks on their face or body—all without having to physically show up at a retail store to test samples.
What to Look for in a Virtual Try-On Solution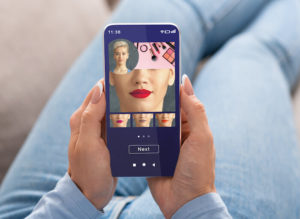 Not all virtual try-on solutions are created equally. To get the most benefit out of this technology, look for one with the following characteristics:
Inclusive: 

The ability to recognize a diverse range of faces, skin colors, and textures

Accurate virtual rendering: 

The ability to accurately render the product on the user's face to provide a true representation of what the product will look like 

Customizable:

 Most companies have specific branding and design requirements, so your VTO solution should allow for customization options to match your brand's design standards
Stand Out with AlgoFace
Of course, Instagram is only one of many ways to leverage this amazing technology to better connect and support consumers. Retailers who can effectively incorporate VTO to provide seamless shopping experiences in-store and on various digital shopping platforms are poised to greatly benefit. With VTO minimizing issues with fit and buyer's remorse after purchasing products via e-commerce without first trying them on, it's a popular and financially smart choice for brands. 
If you're considering adding or upgrading your VTO, AlgoFace provides an inclusive, accurate, customizable, fast, immersive AR experience that shoppers will truly enjoy. 
To see for yourself what's possible, contact us today.