"80% of the assignments I assign can be answered directly by ChatGPT, whether there's discussion questions, essays, code, documentation, or outright software. How do you respond to that?" says Isac Artzi, the Associate Professor of Computer Science at Grand Canyon University (GCU). Since its inception, ChatGPT has been seen as a threat to the world of academics. With the ability to write an essay in less than a minute, college students have taken advantage of this cutting-edge technology. Nearly one in three college students reported being regular users of chat-based, generative artificial intelligence (AI).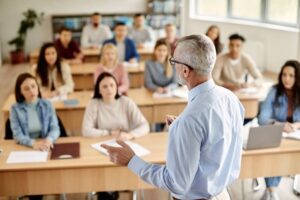 As an early adopter of burgeoning technology, Profesor Artzi's approach to ChatGPT differed from much of academia. "I embraced ChatGPT in all my classes. I am using ChatGPT to create lesson plans, in-class activities, and customize activities per student." Since 1993, Professor Arzti has been a professor for numerous universities nationwide and has been focused in the computer science industry since 1996. He has been on the cutting edge of technological growth, helping develop satellite-based VPNs, teaching advanced technology courses, and trailblazing online learning experiences. 
Colleges Struggle to Adapt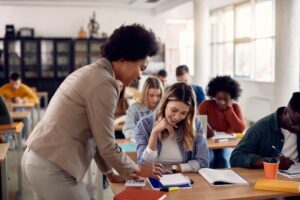 "College is no longer viable right now. With 100,000 students online at GCU, we have a lot to address." Colleges need to redefine learning for the next generation of students. "Nobody's daring to be the first to change the system. Everybody in academia, including us, is a coward. Everyone knows that a change needs to be made." Colleges are not prepared to handle the disruptive nature of generative AI. While websites such as GPTZero allow teachers to check for generative AI use, there are still loopholes. Students can enter responses from ChatGPT into the website QuillBot to reword the response, remove the AI landmark, and GPTZero will not detect it.
Why AI Cheating Could Become A Long-Term Issue
"We have no way of assuring any university's online students are actually doing the homework when it's all project-based." The long-term consequences of AI cheating are more than meets the eye. When students use AI, they fail to prepare themselves for the real world. "Imagine, I'm an online student. I just got my master's in clinical mental health counseling. I applied for a job but was rejected because I didn't have the necessary skills due to my cheating throughout the program. So if I cheat, I am really only cheating myself." 
Integrating Chatbots Into Online Learning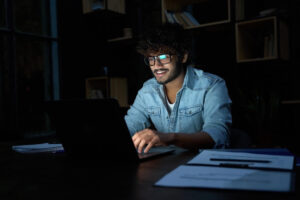 "I'm working now on a chatbot. I have a first version of it where I train it. It's like ChatGPT.. It's based on open AI technology, but it's specific to the domain of one class." Professor Artzi is trailblazing a new kind of AI chatbot to revolutionize learning. "I upload the textbook, the assignments, and readings instead of a student coming to me during office hours. You ask it, hey, can you explain this concept to me? And it explains the concept according to the textbook. It's not instead of me. I can still do it. It's in lieu of you having to ask me. This is coming to my classes this summer." Professor Artzi hopes to share this technology across GCU, "I'm pitching this to become GCU-wide, and I want to see it embedded into the online learning portal. I want everyone to be able to chat about the class with a custom chatbot and ask a question about anything, just like you would talk with your professor."
Individual Learning Paths with AI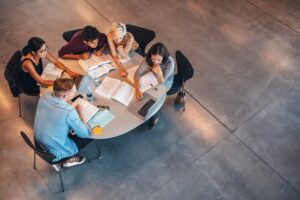 "I say let's not have subjects. Let's create individualized learning paths with individualized AI-based robots." Using AI, students can embark on individualized learning paths with the freedom to determine their desired career path. "We can have every student assigned a private tutor with infinite patience and access to all the knowledge in the world about that topic. If you feel I don't want to take four classes, I think I can finish English 101 in four weeks. Then you can finish things quickly." Individualized learning paths can potentially change how faculty and students view education. 
With rapid advancements in AI technology, colleges must adapt to the changing landscape. "I say we outright must mutate college as it existed before," To ensure that students are equipped with the necessary skills and knowledge, colleges need to make swift changes. Students cannot continue to automate their way through higher education. The status quo of education policy should be challenged. "If we don't have this conversation, we are on a trajectory that will end with the Terminator or the Matrix, and it will become a self-fulfilling prophecy." If colleges continue to reject AI, education as we know it will be left to dust. Disruptive technologies, such as generative AI, have the potential to bring about profound change for good in education. It is incumbent upon professors such as Professor Artzi and the institutions they work for to recognize the opportunities and create a better educational future for all.