Last week I attended Datagen's webinar about using synthetic data – from the metaverse to the medical and automotive industries. As someone who is just getting started in this innovative world of artificial intelligence, I was excited to hear from speakers on topics like ways to automate in-cabin automotive tasks, synthetic data, reality labs and clinical 3D content. My brother is in this field, and it's great for me to learn all this information so I can geek out with him!
I personally prefer conferences where I can interact with the other attendees. I really like being able to discuss the topics covered with others to expand what I've learned even more; however, I did enjoy the conciseness of this event, running only 60 minutes yet still covering a wide array of topics.
We began with an overview of synthetic data. This was fascinating! It's always a good experience for me to learn new things from these successful industry leaders. Our first speaker, Hadas Sheinfeld, came on to discuss Solving In-Cabin Automotive Tasks with Data-Centric AI. This portion was by far my favorite because I love cars and with the automotive industry as big as it is, I know this is an important area for growth. 
Ms. Sheinfeld talked all about automotive safety and how emerging technology can assist in decreasing the 1.3 million automotive fatalities annually. I was surprised the number was so high, and find it fascinating that we're coming up with new ways to use tech in the to limit these tragedies. She listed out computer vision tasks that can be carried out via infrared cameras, such as:
Facial landmark detection

Eye gaze detection

Eye openness

Head rotation

Seat belt segmentation

Child detection
She also covered the limitations of the real-world data, such as:
Data availability: When data can't be used due to privacy regulations

Data variance: Identities, head location, facial expressions, lighting

Data accuracy: 2D labels that are marked manually can be noisy and provide less input
This brought us deeper into the data portion of the discussion. I got a better understanding of how the AI collects and generates the data it uses –  finding errors, testing, and even generating training to bridge gaps. This portion was so compelling; it's amazing to think of all the ways we collect and use data, and how certain industries are working around the current limitations of this tech in the metaverse. 
Next up was Ron Blank from Meta to talk about reality labs and synthetic data. This portion of the webinar was intriguing, as I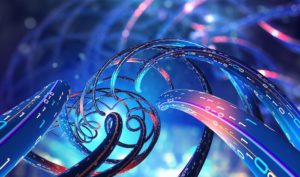 learned how synthetic data is used in our daily lives. It was the first time I found out that synthetic data exists everywhere; for example, because our brains can store memories and other data and mimic real-world observations, our brains are actually examples of synthetic data. 
Mr. Blank talked about how synthetic data can be used for AR/VR and how data bridges the gap between virtual and augmented reality. Then he got technical with how Meta uses synthetic data. There was a lot of information about the different types of simulations that can be performed with synthetic data. Thinking about the amount of data we're generating on a daily basis across the planet can be overwhelming, but hearing about the ways we can use this data in the metaverse – especially when it's used for good, as we're doing at AlgoFace – is exciting.
Lastly, Oded Maoz Erell covered clinical 3D content. This was incredibly fascinating as I wasn't aware of the intricacy and frequency with which synthetic data is used in the medical field. Mr. Erell discussed in detail how his team uses procedural modeling pipelines to generate synthetic data for surgical operations; isn't that amazing? This section was more technical, as it was focused on the medical industry, but essentially it was using real images and synthetic data to improve and gain a better understanding of medical operations. I was impressed at how useful synthetic data can be in a variety of industries. 
I certainly got a ton of great information out of this conference, and a better understanding of how synthetic data is used. All three speakers covered their topics well and kept the audience engaged. While not my favorite format (preferring in-person events to digital), I enjoy attending these types of conferences because they are a great way to learn about new technologies and market trends.
Looking to learn more about synthetic data and AI in the metaverse? Reach out to our team.