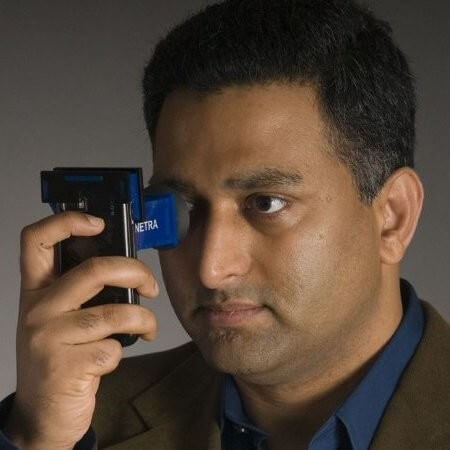 AlgoFace Inc, a leading Face AI computer vision software venture announced today that it has added Ramesh Raskar as a scientific advisor. AlgoFace specializes in facial landmark tracking solutions and unbiased identity free biometric face analysis.
"Face AI is the next frontier in computer vision. AlgoFace is positioned to be a leader in this space and to unlock the potential of human-like understanding of faces while adhering to the principle of privacy and inclusion.

Ramesh Raskar
Ramesh Raskar is an Associate Professor at MIT Media Lab and directs the Camera Culture research group. His focus is on Machine Learning and Imaging for health and sustainability. They span research in physical (e.g., sensors, health-tech), digital (e.g., automated and privacy-aware machine learning) and global (e.g., geomaps, autonomous mobility) domains.
He received the Lemelson Award 2016 and ACM SIGGRAPH Achievement Award 2017, Technology Review TR100 award 2004 (which recognizes top young innovators under the age of 35), Global Indus Technovator Award (top 20 Indian technology innovators worldwide) 2003, Alfred P. Sloan Research Fellowship award 2009 and Darpa Young Faculty award 2010. Other awards include Marr Prize honorable mention 2009, LAUNCH Health Innovation Award, presented by NASA, USAID, US State Dept+ NIKE, 2010, Vodafone Wireless Innovation Award (first place) 2011.
He has worked on special research projects at Google [X], Facebook, Apple and co-founded/advised several startups. He launched REDX.io, a platform for young innovators to explore AI-for-Impact. He frequently consults for dynamic organizations to conduct 'SpotProbing' exercises to spot opportunities and probe solutions.
Ramesh currently holds more than 90 US patents.
"Ramesh is a celebrity professor at MIT focused on AI and Camera Culture. His knowledge in these areas is arguably unparalleled. Taleb and I are excited to tap into Ramesh's brilliant mind and expansive network as we lead our platform and products into their next stages of growth.

Andrew Bart

CEO of AlgoFace
About AlgoFace
AlgoFace builds AR and AI technology that knows what's unique in every person. Through precise tracking of 209 facial landmarks, AlgoFace technology enables a deeper understanding of the human form, to detect and recognize people more accurately, more easily and more clearly. AlgoFace works with leading brands, agencies and OEM partners to power face AI applications in beauty, automotive, insurance, telehealth, medtech, and consumer electronics. Headquartered in Carefree, Arizona, they are a diverse team of passionate innovators with deep rooted knowledge in computer vision, augmented reality and applied artificial intelligence applications. For more information, please visit www.algoface.ai.